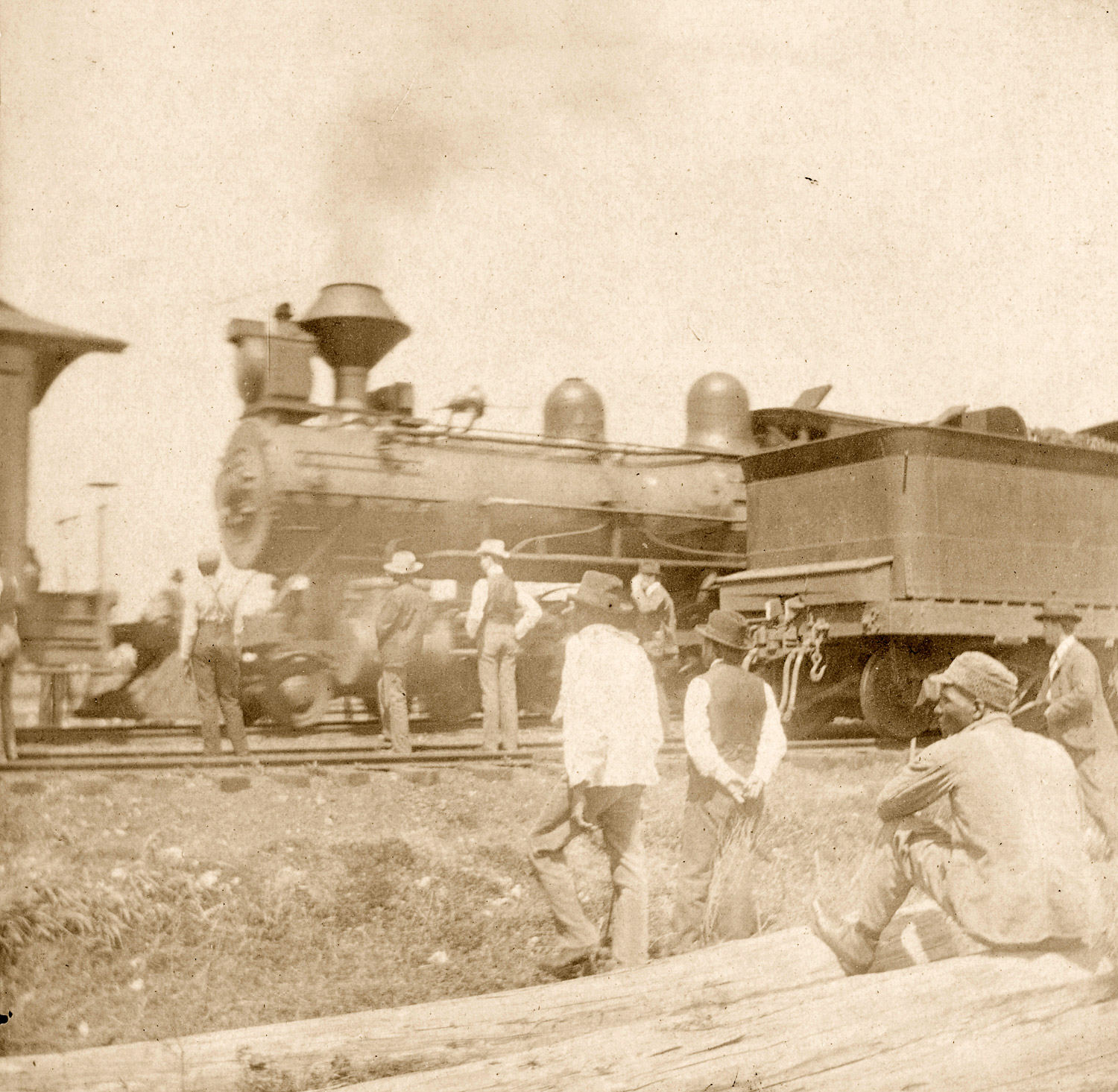 Officially a City
1871-1900
The year 1871 is the most momentous year in the history of Bryan. From an official standpoint, it is the year that the City of Bryan was incorporated and recognized by the State of Texas as a municipality. From a visionary standpoint, it is the year that completely changed the calculus for what Bryan could become and, eventually, would become.
---
1871: "A lot of things were happening"
Busy times: Listen to a quick summary of the events of 1871 from City of Bryan historian Randy Haynes, including the selection of Bryan as the location for the new Agricultural and Mechanical College of Texas, seen here in an early photo.
---
Establishing A&M: Harvey Mitchell and his vision realized
On April 17, 1871, the Texas Legislature approved a bill providing for the organization of the Agricultural and Mechanical College of Texas, and appropriated $75,000 for the construction of academic buildings and accommodations. Gov. Edmund J. Davis appointed a commission of three men to find a suitable location for the college on a site no smaller than 1,280 acres of land.
Harvey Mitchell was ready. He viewed securing the site of the new college for Bryan and Brazos County as the most vital task he'd ever undertaken. According to John Henry Brown's 1896 history book, Indian Wars and Pioneers of Texas:
---

It was the highest ambition of his [Mitchell's] life. He was fully impressed with its importance as a source of revenue to his people, for all time to come, as thousands of dollars would annually be brought into the county and disbursed among the people for labor and supplies."
---
On June 13, 1871, the three commissioners visited Bryan and were "wined and dined" by local residents, Mitchell included, who talked of contributing significant amounts of money toward the new college. But other locations – Austin, Waco, San Marcos and San Antonio – also were vying for the new college.
The commissioners let the competitors know that they would accept sealed bids, termed "bonuses," from the competing sites and would open them at a meeting in Houston about a week after their visit to Bryan. The winning bid would be accepted, and that location would be named as the site for the new college.
---
The Bryan-Texas A&M connection: Carnegie History Center manager Rachael Altman explains the deep connection that Bryan and Texas A&M University share.
---
Three men – Mitchell, the Hon. W.A. Saylor and Judge Spencer Ford – were tasked with going to Houston ahead of the meeting and securing the prize. But Judge Ford didn't make the trip, and Mr. Saylor went on to Galveston, leaving Mitchell alone to battle the other competitors.
And here's where it gets really interesting. We'll just quote from John Henry Brown's account again, because it is a great, and extravagantly written, summation of the events that took place:
---
But he [Mitchell] managed to learn what bonus his people would have to raise to secure the prize, which was so great that he feared it was beyond their reach. He wired Mayor Downard for instructions and waited for a reply, but none came.

And nerved with the excitement of desperation, he resolved to act on his own responsibility, and proceeded to write out a bid offering the necessary bonus, which was accepted on condition that he would have perfect titles to the land (2,250 acres which he had previously shown them) presented with 48 hours.

He was then en route for New York to spend the summer, but boarded the first train back to Bryan, reported what he had done, and with the help of other citizens, main that of Hon. John N. Henderson, an associate justice of the supreme court, and M.W. McCraw, now deceased, the money was raised, the lands bought and deeds to the same secured and delivered to the commissioners within the time specified, and he resumed his journey to the Northern cities, the happiest man in America."
---
Some of the numbers of the size of the acreage in the bid are disputed, but the final accepted total was 2,416 acres. What is also generally accepted is that Mitchell quickly got together with these other landowners, and they combined their own tracts of land to provide deeds for the bid. They were then reimbursed for the cost of that land by the entire community.
But those are just details. What matters is that the deal was struck on June 20, 1871. Mitchell's vision would become reality. The new college would be located just outside of Bryan. And the fortunes of this city and this new academic institution would forever be entwined.
---
1873: Founding of St. Joseph Parish
Have Bible, will travel: Listen to Dr. Jim Mazurkiewicz discuss the founding of St. Joseph Parish and the role of "saddle bag priests" who served many parishes at that time.
St. Joseph Parish was organized in 1873 and dedicated its first sanctuary in 1878. That sanctuary was destroyed by fire. For a time, the congregation met in the second floor of the Dunn and Daly building in Downtown Bryan. A second sanctuary was dedicated in 1904. This photo shows that second sanctuary between 1904 and 1909. The current building was completed in 1960.
---
Firsts and fires
There were a lot of "firsts" happening in Bryan during this time period, and interestingly enough, some of Bryan's municipal firsts happened before the city was officially incorporated and recognized by the state.
In 1869 the Bryan Police Department was formed, and in July 1871, the Bryan Fire Department was established. You'd think that the city would need to be incorporated for those two milestones to happen, but that wasn't true. In the case of the fire department, it was an all-volunteer company that had to provide most of its own equipment in the early days. Bryan would not have a full-time, paid firefighter until 1921.
As it was in most cities and towns during this era, fire was the scourge of the community. With most structures being made of wood and oil lamps providing light, fires were a common fixture in Bryan.
---
1870s-1880s: Fires plague Bryan

1877: This is the first Sanborn fire insurance map of Block 256 in Downtown Bryan. Block 256, which is actually mislabeled as Block 265, is the present-day downtown area between 26th Street and Gloria Stephan Sale Park. Current buildings on the block include the Howell Building, the LaSalle Hotel and the Queen Theatre.
1887: Bryan firemen in Downtown Bryan. Fires were the scourge of cities and towns in the late 1800s, and Bryan was no exception.
---
The first Sanborn fire insurance maps for Bryan, dated 1877, show one- and two-story buildings covering all of Block 256 in downtown. Businesses included a restaurant, a saloon and the post office. Of course, you can guess where this is going: These buildings apparently burned in the fire of Oct. 11, 1879, which originated from an exploded lamp in the saloon of Hearne and Boyett.
Fire was simply a fact of life in those days. Homes, stores, saloons, churches. No one went unscathed. You just dealt with it the best you could, and then you started rebuilding.
---
1870s-1890s: Italian immigration to Brazos County
Sharing her mother's legacy: Local historian Anne Boykin explains the history of Italian immigration to this area through stories of her own heritage, and through her mother's extensive work in chronicling the history of their family and all Brazos Valley Italians.
---
More new faces and a building boom
Rebuilding from fire wasn't the only reason for new construction. Immigration from Europe continued to increase, with large numbers of Italians now joining the Czech, German and Polish populations that were settling in the Brazos Valley.
The children of those first-generation immigrants would come of age in this era, and many of them left the farm to seek their fortunes in Bryan. A thriving merchant class began to take shape as many of this second generation became involved in the export of cotton, oil, grain, livestock and other commodities.
A growing town needs services, schools, banks, hotels and places of worship. The 1870s and 1880s saw new buildings for all of these types of establishments come into being.
---
1880s: First public schools in Bryan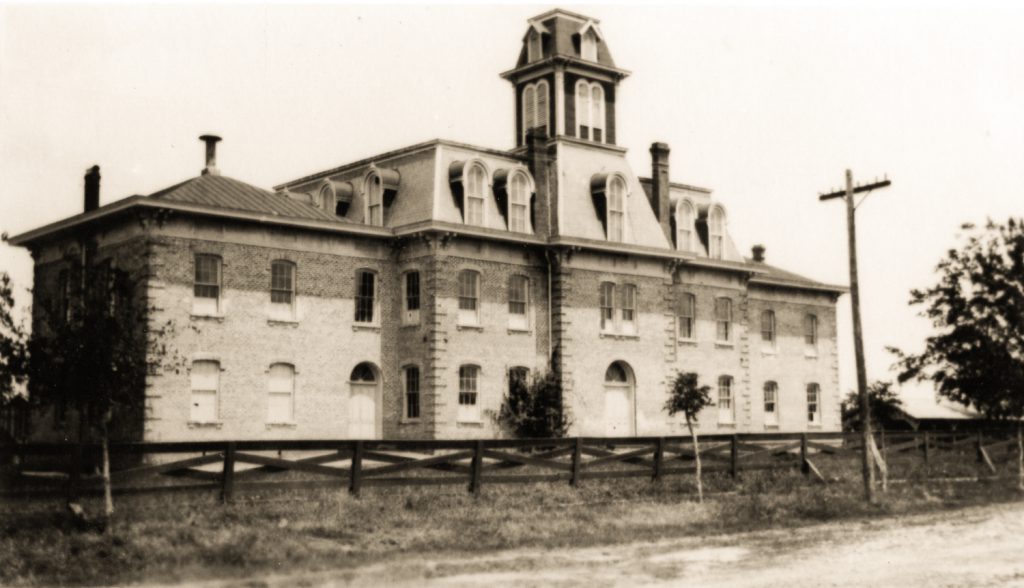 1880: The first tax-supported public school in Bryan, known as the Bryan Grade School, was located at 1200 Baker St., the site of the current Fannin Elementary.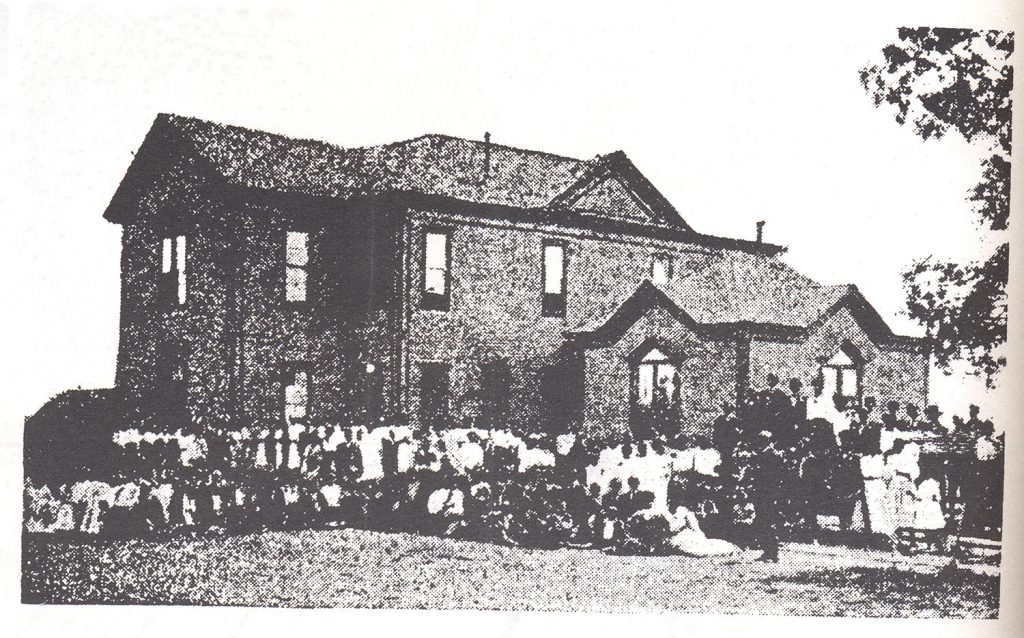 1885: Bryan's first public school for African Americans, Bryan School for Colored, was located at E. 19th Street and Preston Avenue. It was renamed Washington Elementary in 1930.
🎧 Oral history: Listen to Wayne Sadberry, curator of the Brazos Valley African American Museum, discuss the early school for African Americans.
Read the transcript of Mr. Sadberry speaking about the first school for African Americans (opens in new window)
---
The first tax-supported public school in Bryan opened in 1880 as the Bryan Grade School on the site of the current Fannin Elementary School, 1200 Baker St., east of downtown. The city's first school for African Americans, Bryan School for Colored, was founded in 1885 at E. 19th Street and Preston Avenue. Over the next 86 years, that location would support a school building, in one form or another, for the education of segregated African American students.
---
1883: First telephone connection established between the A&M campus and Bryan.
1883: Railroad builds first depot at college and begins making regular stops.
1886: First National Bank chartered. The Bryan family were leaders of this bank for generations.
---
The Stoddard Hotel was another example of the building boom. H.B. Stoddard had purchased 50 percent interest in a tract of land in the middle of Block 256, one of the main blocks in early Bryan, from I.G. Randle for a new hotel. It was designed by Nathaniel Tobey, a noted architect in Galveston at the time, and the contractor was Col. George H. Figh of Dallas.
Construction for the new hotel began in the first week of April 1884 but was delayed in June, because the supply of brick in Bryan was not meeting the growing demand. Stoddard and Randle also erected a house on each side of the hotel building. The Stoddard Hotel formally opened with a banquet on Dec. 2, 1884, for which J. L. Hearne supplied "a fine crate of wine."
In 1886, the Dallas Morning News stated that the Stoddard Hotel was "the only first class hotel in Bryan." The hotel was sold to J. S. Mooring in 1889 and was renamed the Exchange Hotel. The Moorings owned the hotel for 18 years and resided there during that time. The hotel was sold to J. T. Maloney in 1907.
With three stories, the Stoddard/Exchange Hotel was the tallest building on the block until the seven-story LaSalle Hotel was built in 1927. The hotel was demolished in the late 1930s, and the Queen Theatre now resides on its footprint.
---
1890: Temple Freda congregation established.

By this time, a sufficient number of Jewish citizens lived in Bryan to organize an official congregation, which for several decades met in members' homes for worship services, primarily on the High Holy Days such as Yom Kippur.

Without ready access to an official rabbi, services were frequently sporadic and often lay-led.

A synagogue building would not be dedicated until 1913.
---
---
1880s-1890s: New buildings going up everywhere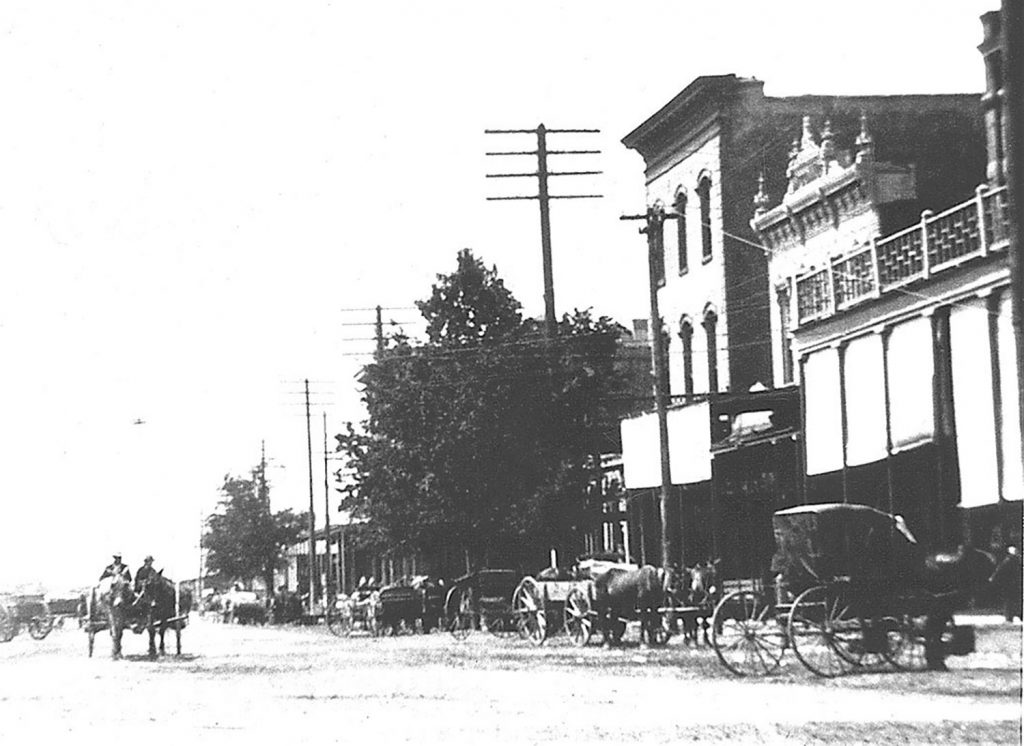 1884, The Stoddard/Exchange Hotel: The Stoddard Hotel shows up on the 1885 Sanborn fire insurance map of Block 256 in Bryan. The hotel was renamed the Exchange Hotel in 1889. The Queen Theatre now resides in its footprint.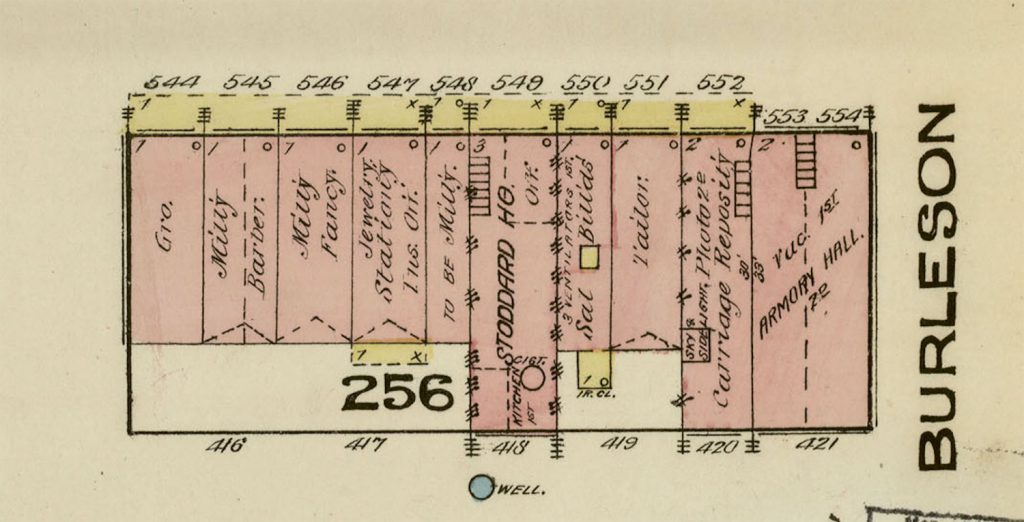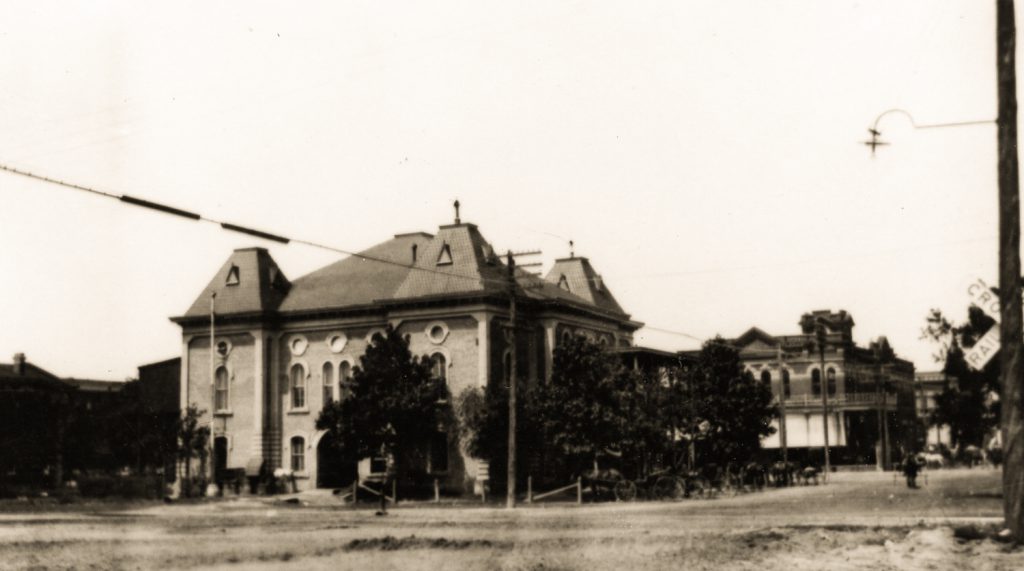 1888, The Grand Opera House: The Opera House was one of the first public buildings in the City of Bryan. It also housed the first city hall and the fire station.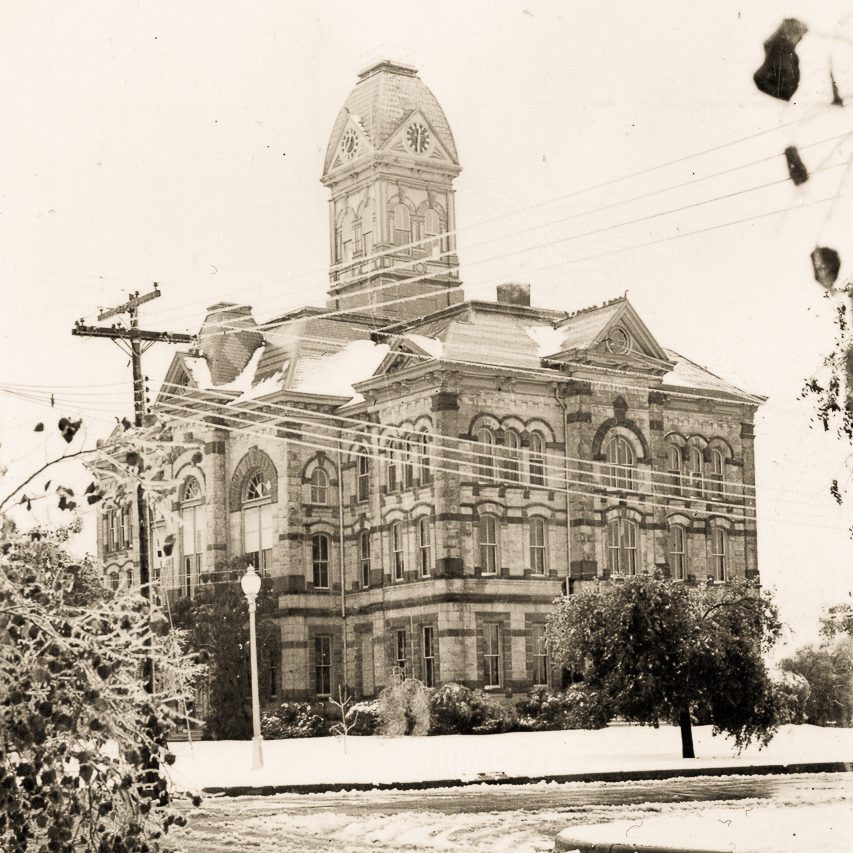 1892, Brazos County Courthouse: The 1892 courthouse had a sandstone exterior and stood until 1954, when it was demolished to make way for the current modern courthouse.
---
Of course, many other homes, buildings, schools and churches were constructed during this time period. And of course, many of them are gone, destroyed by fire or age.
The Grand Opera House in Downtown Bryan was one of the first public buildings in the city. Located between the railroad tracks and Main Street, on the site of the current Palace Theater, this building was built in 1888 and also housed the first city hall and fire station. Ironically, it would also be destroyed by fire in the years to come.
---
1890s: Bryan's first city park, Oak Grove Park, opens. Today it is known as Claude Scurry Park.
1895: Bryan's first daily paper, the Bryan Daily Eagle, begins publication.

---
---
1880-1900: Deputy Marshal Levi Neal
Killed in the line of duty: Listen to City of Bryan historian Randy Haynes tell the remarkable and tragic story of Deputy Marshal Levi Neal, one of the first African American peace officers in Texas to die in the line of duty.
---
Bryan's first Black police officer
In 1880, the Bryan City Council voted to hire Levi Neal, an African American man, as a police officer with law enforcement authority over citizens of all races. For 20 years, Neal served the citizens of Bryan as a deputy city marshal, putting his life on the line on numerous occasions. He survived at least two shootouts in the 1880s where other law officers were killed.
On May 14, 1885, 40 convicts escaped from a prison work camp. Sixteen of the convicts headed to Bryan to seize a powder magazine. On May 15, between 1 and 2 o'clock, Neal and four other men stationed themselves about one mile south of the city. The convicts were all mounted on mules and heavily armed with guns and pistols, and when brought to a halt, they began firing immediately. Deputy City Marshal Levin P. Smith Jr. was fatally shot. City Marshal A. B. Carr received several shots in his clothing and two shots in his hat, but did not sustain injury. It was reported that three of the convicts were seriously wounded, and nine of them were indicted for murder.
Unfortunately, Neal himself would be killed in the line of duty on Feb. 24, 1900. An ex-convict, Dennis Calhoun, killed him while Neal was arresting him. Neal was one of the first African American peace officers in Texas to die in the line of duty. He was buried in an unmarked grave in Bryan City Cemetery, and while his grave could not be located, a marker commemorating his service was later erected.
Though much research has been done, there is no known photograph of Deputy Levi Neal. It is clear that he held a significant amount of respect in the eyes of all Bryan citizens, which is most unusual during this period in the city's history.
---
1896: St. Anthony's Church established with 100 Italian families.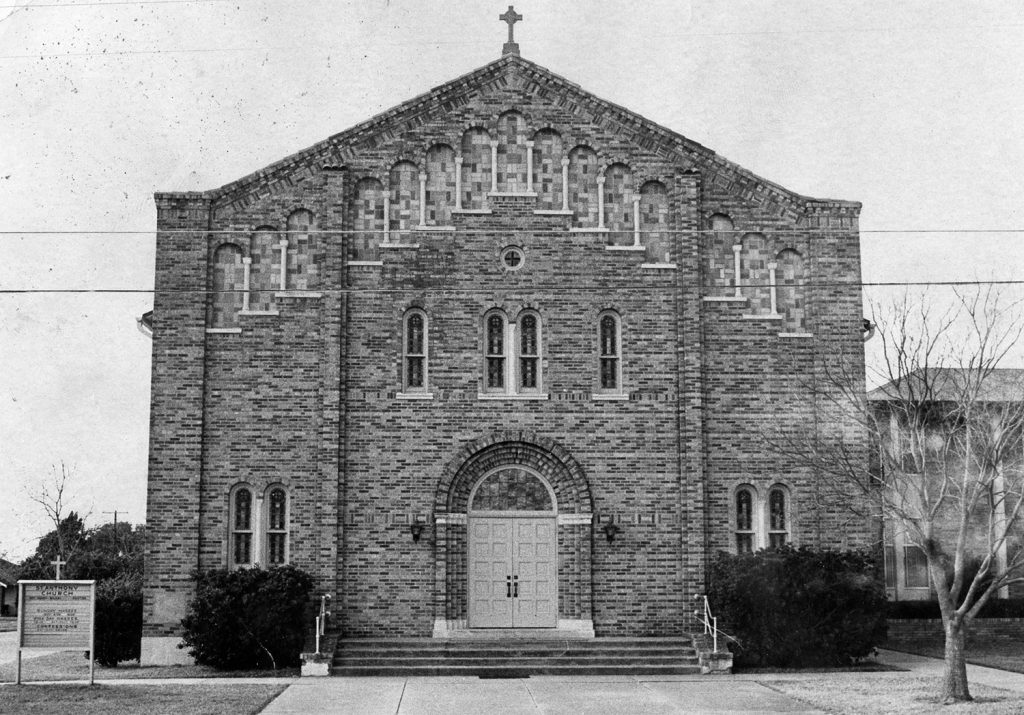 St. Anthony's first sanctuary on Polk Avenue was a white frame building that was destroyed by fire in 1926. The sanctuary above was built in 1927 at 306 S. Parker. St. Anthony's was added to the National Register of Historic Places in 1987.
---
---
1899: Allen Academy moves to Bryan as a boys college preparatory school and joins the educational system.
1900: International & Great Northern Railroad (I&GN) arrives in Bryan.
---